Quincy Senior Residences – 625 Quincy Street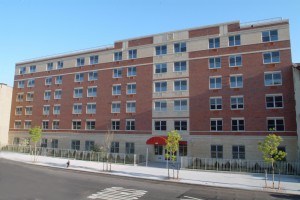 2006 – Total Development Cost: $14.8 million
Quincy Senior Residences is a 93-unit, new construction apartment building for low-income seniors in Bedford-Stuyvesant, funded primarily through housing tax credits. Amenities including a community room, kitchen, and computer lab make it possible not only to meet the tenants' needs, but to provide services to the larger community within the neighborhood as well. While not an assisted living facility, it offers programs to enrich the lives of seniors with a particular focus on health, wellness, well-being, and an active lifestyle.
Funding sources include NYC Department of Housing Preservation and Development, NY State Housing Trust Fund, Community Preservation Corporation (CPC), with tax credits syndicated by Richmond Group.
Since opening, Quincy Street Senior Residence has developed partnerships with the Arthritis Foundation, the American Diabetes Foundation, the Alzheimer's Foundation, Interfaith Medical Center, the YMCA, the Visiting Nurse Service, and the Cancer Society to provide our residents with regularly scheduled programs focused on their wellness and health. Quincy Senior Residence is expanding its relationship with the Health Department of New York City and plan offers additional programs on nutrition and healthy-eating. In addition, residents are offered recreational and cultural programs off and on site. Programs and clubs at the Quincy Senior Residence have been graciously funded and supported by The Fan Fox and Leslie R. Samuels Foundation, Independence Community Foundation, New York Community Trust and M&T Bank.
Read more about Quincy Senior Residences and the programs offered there.