TAMA Summerfest!
Jul 30 2016 12:00pm
This event recurs on s.
The next time will be:
At Tompkins Avenue (between Hancock and Monroe Streets)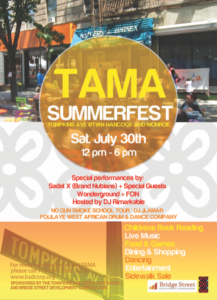 Bridge Street Development Corporation (BSDC) and the Tompkins Avenue Merchants Association (TAMA) are proud to announce the 7th Annual TAMA Summerfest! The event will take place on July 30, 2016 from 12 PM to 6 PM. This annual community festival will be located on Tompkins Avenue between Hancock and Monroe Streets.
TAMA SummerFest highlights the unique mix of merchants along Tompkins Avenue, including fashion boutiques, coffee shops and wine merchants. The event encourages residents to support local businesses, as they listen to live bands and DJs. There is something for everyone at this traffic-free, pedestrian zone. This event will include resources through community organizations, a children's zone, food and dancing.
TAMA SummerFest will be an exciting event. We hope that you will join us!
Please register to attend here: TAMA SummerFest Registration