Computer Basics for Older Adults
Jul 07 2015 9:00am - 8/20/15 12:00 pm
This event recurs on s.
The next time will be:
At Quincy Senior Residences, 625 Quincy Street Brooklyn, NY 11221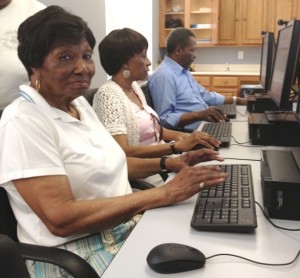 Quincy Senior Residences will be offering free Computer Classes at the Phyllis D. Smalls Hurd Technology Center for adults 50 and over. This is a 10 week course designed to give a comprehensive course on basic computer skills and are provided by Older Adults Technology Services.
Computer basics for older adults will give you a chance to learn the basic skills you need to operate a PC computer. Learn to use the mouse and keyboard, get on the internet, and use email to stay in touch with family and friends.
Here's what you can expect from this course:
Appropriate for absolute beginner
Designed for older adults, ages 50 and up
Moderate pace
Supportive environment
Opportunities to ask questions
Here's what we require from you:
Regular, on time attendance
Patience with your trainer and volunteers
Active participation in discussions
Ask questions if you don't understand
Come to all classes and practice sessions
Participate in evaluations and feedback
Registration is mandatory and seating is limited! Please register by contacting Michele Grimes at (718) 453-0685 ext. 310 or mgrimes@bsdcorp.org.
Classes are made possible, in part, by the NYC Council and the NYC Department for the Aging.