Brooklyn Public Library: Microsoft Word Creativity
May 04 2015 4:00pm - 4/27/15 5:00 pm
This event recurs on s.
The next time will be:
At Quincy Senior Residences, 625 Quincy Street Brooklyn, NY 11221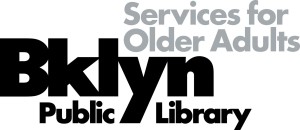 Did you know Microsoft Word can be used for more than just text documents? Come learn to use Microsoft Word in creative ways.  No experience necessary.
Services for Older Adults is partially funded by Coordinated Outreach Library Services aid from the New York State Education Department, administered by the State Library's Division of Library Development. This program is sponsored by Brooklyn Public Library's Department of Outreach Services, which has been established with the generous support of The Charles H. Revson Foundation.
For more information please contact Quincy Senior Residences at (718) 453-0685
To register please fill out the form below: