8th Annual TAMA Summerfest Weekend Walks Part II Takes Place in Bed-Stuy, Brooklyn August 18th!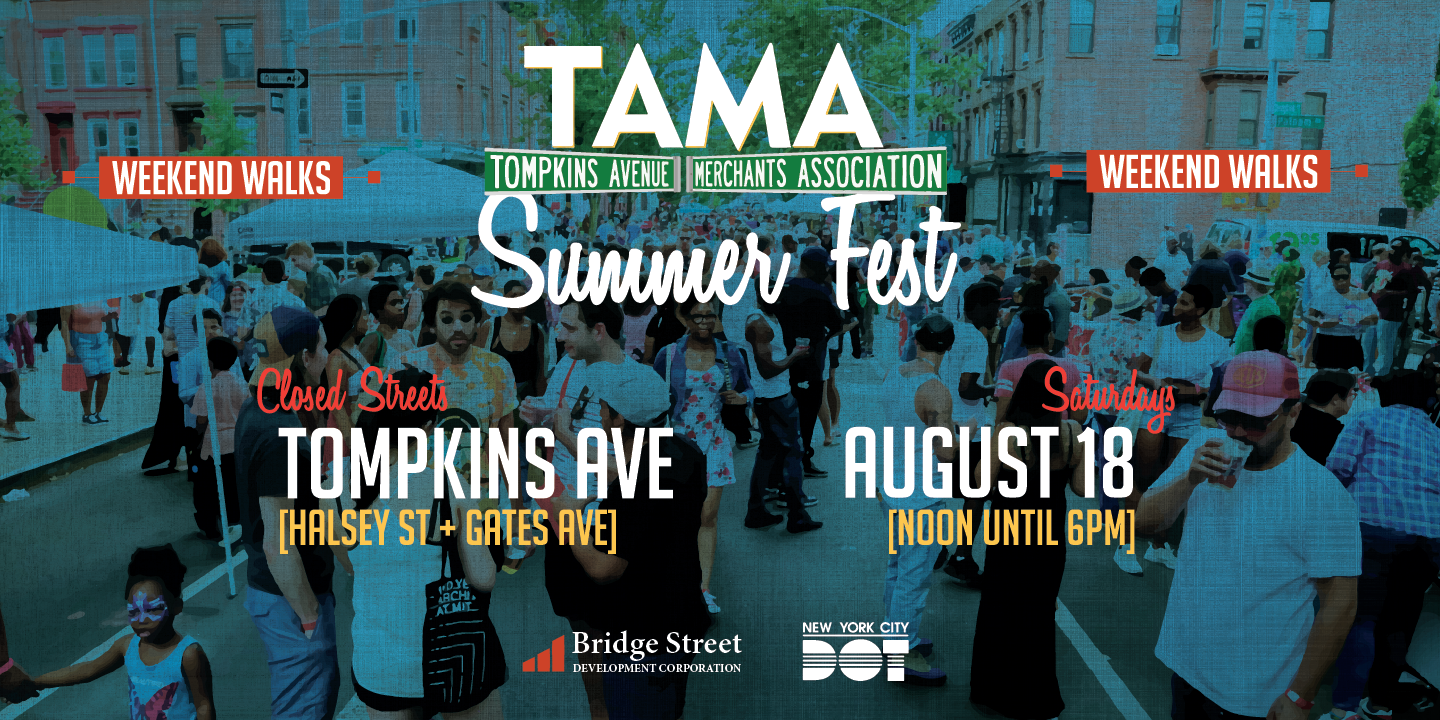 Bedford-Stuyvesant, Brooklyn, NY – July 21, 2018 – Bridge Street Development Corporation (BSDC) and the Tompkins Avenue Merchants Association (TAMA) present the next installment of the 8th Annual TAMA Summerfest  Weekend Walks Part II on Saturday,  August 18, 2018,  from 12:00 PM to 6:00 PM. This annual community festival takes over Tompkins Avenue between Halsey Street and Gates Avenue. Each year, Bedford-Stuyvesant residents celebrate their community and support their local business corridor. Tompkins Avenue offers an eclectic mix of Artisans, Boutiques, Bars, Eateries, Wellness/Health, Services and more. Beautiful people, vibrant music and awesome activities.
TAMA Summerfest is for the natives, newcomers & visitors to Tompkins Ave.
This year's TAMA Summerfest provides a space where neighbors can bond and get to know each other. This event is also includes a safety zone for children and families to ride bikes and scooters. The Summerfest will provide a host of activities for fitness buffs, foodies, music fans and all family members.
Live dance performances by nationally recognized troupes Ifetayo, Asase Yaa, Urban Bush Women and Cumbe. Spectacular music performances by Brooklyn's own Shelly Nichole & Blakbushe; doo-wop singers, the Sophisticate Gents; DJ Hard Hittin Harry & his team; and, poet/singer Tai Allen featuring Kim Hill (formerly of Black Eyed Peas). Kim is also the co-owner of Radical Women based on Tompkins Ave.
Local Tompkins Avenue merchants, food/craft street vendor and NYC-based community organizations will offer resources, product samples and raffles to entice neighbors to learn more about local businesses offerings.  TAMA Summer Fest Weekend Walks is also partnering with Con Ed, Modern MD, and Coca Cola.  Tompkins Avenue is home to  BLACK GIRL MAGIC with over 15 black and female owned businesses (https://www.africanprintinfashion.com/2018/04/black-girl-magic.html) and one BEST fried chicken spots in BROOKLYN (https://www.timeout.com/newyork/restaurants/the-best-fried-chicken-in-ny).
| | |
| --- | --- |
| | I live on "Black Girl Magic" Street also known as Tompkins Ave in Brooklyn, NY. Why "Black Girl Magic" Street? Because a total of 15! Black Women have opened their business here on Tompkins Ave in the last couple of years. |
"TAMA SummerFest Weekend Walks is an event for us to build stronger connections between merchants and residents of Bedford-Stuyvesant and  business owners an opportunity to interface with more than 1,000 potential customers. We are excited about the growth and future partnership with merchants on Tompkins Avenue," explains Emilio Dorcely, President & CEO of Bridge Street Development  Corporation.
BSDC has worked with small business owners for more than a decade to develop and strengthen merchant associations along Tompkins Avenue and other secondary commercial corridors in Bedford-Stuyvesant.
The TAMA SummerFest Weekend Walks 2018 is made possible through the support of the NYC Department of Transportation Weekend Walk  Grant, Bridge Street Development Corporation and the members of the Tompkins Avenue Merchants Association. For more information about Bridge Street Development Corporation, visit www.bsdcorp.org or call Oma Holloway, Director of Community Engagement at 917.696.2198 or oholloway@bsdcorp.org.