CNYCN: Announcing AGScamHelp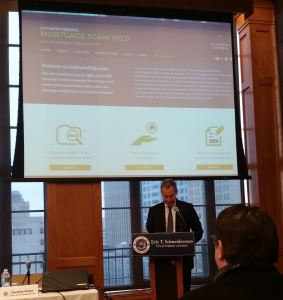 (Sage Erskine / CNYCN)
Yesterday, the Center for NYC Neighborhoods was honored to join New York State Attorney General Eric T. Schneiderman to announce the launch of a new web app, AGScamHelp. AGScamHelp was designed to inform and protect New York homeowners from foreclosure rescue scams. Visit AGScamHelp.com to search companies and see if they are government-vetted, get connected to trustworthy help, report a suspected scam, and get tips on how to identify a scam.
"Foreclosure scams take people who are victims of the financial crisis and make them victims again by taking their money and time…AGScamHelp is an unprecedented use of technology to make New York safer for families facing foreclosure," explained Attorney General Eric T. Schneiderman at yesterday's event.
Learn more about the initiative on the CNYCN website.
New York homeowners facing foreclosure can receive free confidential counseling from Bridge Street Development Corporation. To get started, submit a  foreclosure prevention intake form and a counselor will follow up.