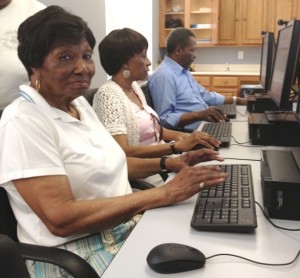 In the digital age, seniors can stay connected by learning how to use the internet. Quincy features 12 computers with internet access in the Phyllis S. Hurd Technology Center.
The lab is open to all seniors who have completed the Basic and Advanced Computer Classes. These classes are offered on a regular basis by the Broadband Technology Opportunities Program. Interested seniors are taught basic and advanced computer skills in 10-week courses.
Additional classes are offered monthly by Brooklyn Public Library. Classes include:
1. Accessing Health Information Online
Online databases and websites usually have more current information that is constantly updated. By using the Brooklyn Public Library's database, seniors can obtain updated and reliable information about their own health concerns and questions.
2. Online Banking
This class educates seniors on the pros and cons of online banking as federal checks turn electronic. The class provides seniors with other banking options while encouraging them to enhance their computer skills.
3. Blogging 101
Seniors are introduced to creating blogs. The topics include: What is a Blog, Which Blogging Platform Should I Use, Tips on Writing Blog Entries, and Sharing your Blog.
4. Microsoft Word and Microsoft Excel
Seniors are taught the basic steps in using Microsoft programs and leave the training with awareness and understanding. In the class students are instructed on how to make spreadsheets in excel and type documents in word and how to apply them to everyday life.