Community Events & Workshops
By organizing community events and workshops, we are constantly working to revitalize Bed-Stuy's commercial corridors.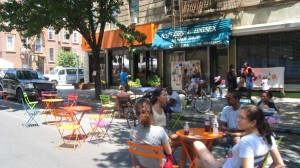 Every summer, Tompkins Avenue becomes an active, pedestrian-friendly, public space for aikido, bike maintenance, classes, discounts, dance, music, food, arts, games, mural painting, yoga, children's book reading, fashion shows, & much more. This annual event is organized by the Tompkins Avenue Merchants Association with our support.
Every fall, with assistance from BSDC, the Malcolm X Boulevard Merchants Association puts on the Bed-Styles Art Bazaar with live music, live fashion, live art, sculpting, and lots of friendly neighbors.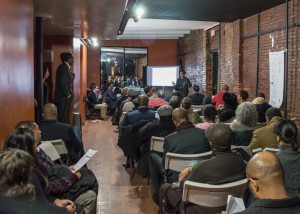 Additionally, through state-funded programs and private grants, we have worked with business owners and landlords to secure and distribute planters that make stretches of Tompkins Avenue and Malcolm X Boulevard more attractive to shoppers. On Tompkins and Lewis Avenues, we provided initial funding for facade improvements and the installation of slotted gates, bike parking, and city seats, making it easier and more comfortable for local residents and visitors to spend an afternoon eating, browsing, and shopping in beautiful and historic Bedford-Stuyvesant.
On Malcolm X Boulevard, we are bringing residents, businesses, and community partners together to help design a more vibrant public space. To download a study of the intersection of Fulton and Malcolm X, click here (created by students at Pratt Institute).
In 2012, we launched a workshop series entitled Mapping the Road Ahead for Business & Community, which focuses on the economic impact of living and doing business in changing neighborhoods.
Past discussion topics have included:
The impacts of living in a changing neighborhood
Designing safe streets and public spaces to foster social and economic equity
The community's role in creating and enforcing retail diversity in changing neighborhoods
Urban innovation through social design
Non-traditional funding and investment opportunities
For information on upcoming events please visit our events page.