Senior Citizens Learn to Surf the Web at Quincy Senior Residences
Senior citizens are learning to surf at Bridge Street's Quincy Senior Residences—surf the internet, that is. Through a continuing partnership with Older Adults Technology Services (OATS), Bridge Street Development Corporation (BSDC) offers Basic, Intermediate, and Advanced Computer classes for seniors throughout the year. The goal of the classes is to empower and support older adults in living successful, independent lives by using technology to connect them to resources, services, communities, and one another.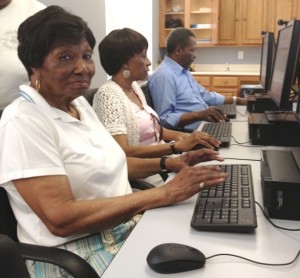 Jeane Williams, who lives at the Quincy Senior Residences, used computers at work before retiring several years ago, but says that "things have changed a lot since then, so these classes have been very helpful". She particularly appreciated a June 18 workshop about finding medical and health information online, presented at Quincy by the Brooklyn Public Library. "After that workshop, I was easily able to find information about shingles and other health issues online," Ms. Williams said excitedly. "Now, if my doctor prescribes a new medication for me, I can just go to the computer and look it up. It's great!" Other seniors use the computers at Quincy's state of the art Phyllis D. Hurd Smalls Senior Technology Center to communicate and share photos with grandchildren and other loved ones around the world. Some of the seniors have even started their own Facebook accounts while others opt for SeniorPlanet, a community on the Internet where older individuals share ideas and information in a friendly, supportive environment. Developed by OATS in 2006, the goal of SeniorPlanet is to promote the health and wellness of older adults and improving their daily quality of life
The latest set of classes, which began July 10, includes both basic and advanced computing and was very quickly filled to capacity by seniors eager to join the digital revolution. And it's not just seniors living at Quincy Senior Residences who are enrolled in the classes—a portion of the available seats for each class is reserved for senior citizens from the surrounding community to join in the learning. For information about upcoming classes, view our events page.