Feast BedStuy – Bedford Avenue Edition

Feast BedStuy is an initiative by Bridge Street Development Corporation that highlights
the diverse food and drink offerings of Bedford-Stuyvesant.
The Feast BedStuy food and beverage tours will help to highlight Bedford-Stuyvesant
as a culinary destination and show that the neighborhood is alive with fine dining and casual restaurants.
Join the next Feast BedStuy food and beverage tour,
this time highlighting Bedford Avenue,
on June 21, 2016, starting at 6:00 pm!
Feast BedStuy: Bedford Avenue

Join us for our summer edition of Feast BedStuy. From 6pm to 9pm, the venues will offer food and beverage specials, with entertainment including live music and DJing from local personalities.
Participating Venues Include:
Corner Grind
1183 Bedford Avenue – Feast Special: $2.00 off entire menu

Bedford Hall
1177 Bedford Avenue – Feast Special: Wine/ Beer Tasting
Napolean's Southern Cuisine & Bakery
1180 Bedford Avenue –Feast Special:  $1.00 off Uncle Nay's Chicken and Waffles
Joloff
1168 Bedford Avenue – Feast Special: Free small beverage with any $10 dine in meal

Oaxaca Taqueria
1116 Bedford Avenue – Feast Special: $2.50 Tacos (Chicken, Pork, Potato, Bean) and $3 Beer (Tecate & Modelo Especial)
Pilar Cuban Eatery
397 Bedford Avenue – Feast Special: $15 for appetizer assortment with Corona or house wine
Bombay Heights
1047 Bedford Avenue – Feast Special upon entry
Jo Juice
1065 Bedford Avenue – $1.00 off a large smoothie or veggie juice

FOOD TRUCKS

The Jerk Shop, La Bella Torte, Cuzin's Duzin
Freebies!!!
Jo Juice: 6-7 pm | Free small fruit or veggie juice for the first 30 people
Napoleon : 7-8 pm | Free 12 oz half n half, 2 pieces of chicken wings & salad for the first 60 people
Oaxaca: 8-9 pm | Free chicken tacos for the first 60 people
Register Here!
Join the conversation online!
Use #FeastBedStuy to share your favorite neighborhood spots or what you think makes the neighborhood unique.
See What People Have Been Saying About the Neighborhood…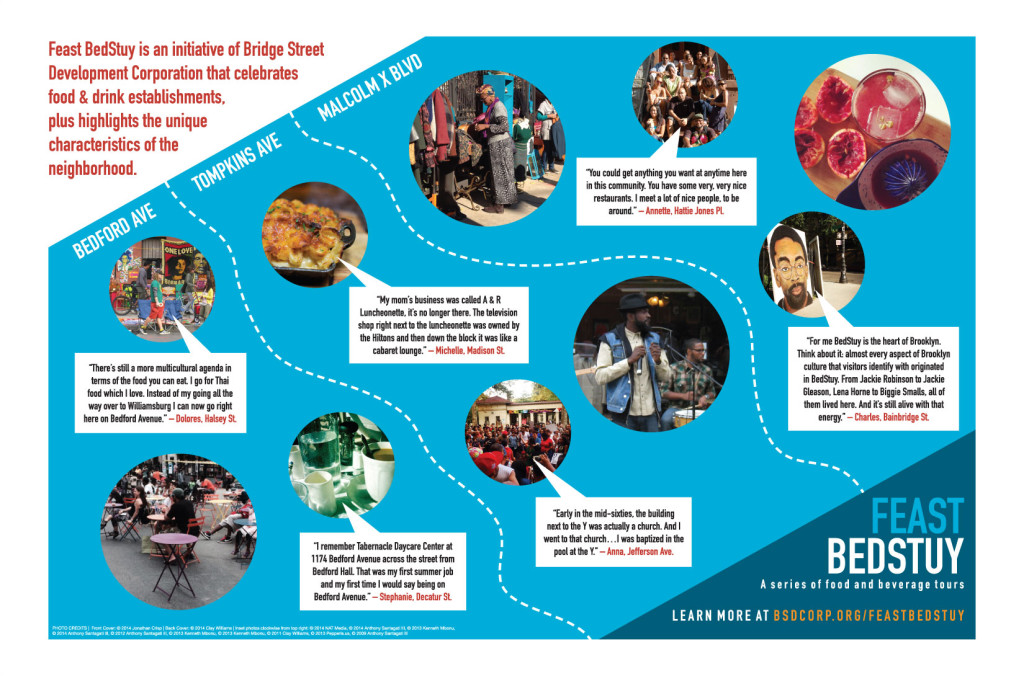 How it all began…
Feast BedStuy kicked-off its first tour on October 11, 2014 during the 10th annual BedStuy Alive! festival that celebrates our community. From October 11 through October 18, participating restaurants offered a specialty beverage and/or menu item called "Alive!" and posted the red Feast BedStuy sticker on their door or window.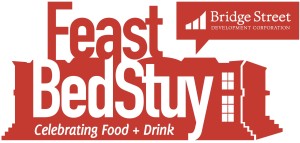 PAST PARTICIPATING RESTAURANTS HAVE INCLUDED: